Groundwater Modeling for the Amargosa Valley SEZ
The Solar PEIS evaluated potential impacts to groundwater resources at the Amargosa Valley SEZ by comparing groundwater pumping scenarios relative to the water balance for the basin, and through an analytical one-dimensional (1D) groundwater model. Results from the 1D groundwater model are shown in the figure below, which depicts potential groundwater drawdown resulting from 20 years of withdrawals considering three different water demand scenarios.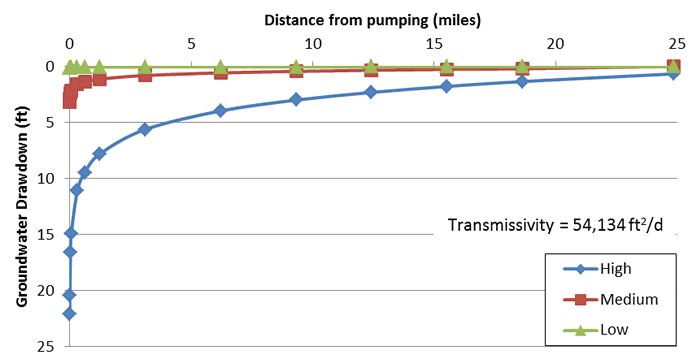 Groundwater drawdown is a concern in the region of the Amargosa Valley SEZ because of connectivity between the groundwater system and the seeps and streams associated with Ash Meadows National Wildlife Refuge and Devils Hole that support threatened and endangered species, most notably the Devils Hole pupfish. The complexity of the groundwater system in the region of the SEZ and the importance of groundwater resources suggest that the analysis of groundwater impacts performed for the Solar PEIS should be considered preliminary, and further groundwater modeling studies should be performed to assess potential impacts from groundwater withdrawals.
The Amargosa Valley SEZ is located within the Amargosa Desert groundwater basin, which is a part of the regional-scale Death Valley Regional Groundwater Flow System (DVRFS) that encompasses several surrounding valleys in southern Nevada and portions of California. The U.S. Geological Survey (USGS) has developed a numerical three-dimensional (3D) transient groundwater model for the DVRFS. The archive for the DVRFS model, including the model files and geospatial datasets, are also provided through the USGS model Web page. The geospatial datasets and "DVRFS" can be searched to find relevant geospatial datasets.
The DVRFS groundwater model was developed using the 2000 version of the U.S. Geological Survey's Modular Three-Dimensional Finite-Difference Groundwater Flow Model (MODFLOW-2000). The MODFLOW-2000 Web page includes manuals and information on source code and add-ons.
The USGS also developed a guide specific to the use the DVRFS groundwater model, which provides instructions for modifying the model files in order to assess groundwater pumping scenarios.
The Southern Amargosa Embedded Model (SAMM) is currently being developed by the USGS as a follow-on study to the development of the DVRFS groundwater model. The SAMM groundwater model is specifically being developed to provide high-resolution groundwater simulations of the Amargosa Desert groundwater basin to address questions regarding groundwater-supported ecosystems of Ash Meadows and Devils Hole, solar energy development, mesquite-woodland habitats, and water right issues.
Recommendations
Currently, the DVRFS groundwater model can be used to assess potential groundwater drawdown impacts associated with utility-scale solar energy development.
Once the SAMM groundwater model is complete, it should be used to assess groundwater withdrawals at the Amargosa Valley SEZ.
For questions regarding groundwater resources at the Amargosa Valley SEZ, please contact John Quinn.
Updated: 12/19/2013